REGISTRATION - OHRID ULTRA-TRAIL 2023
The registration period for OHRID ULTRA-TRAIL 2023 will open on Thursday, September 15, 2022 00:00h.
Maximum registration number: 700
Confirmed registrations: 0
Payment pending registrations: 0
GENERAL TERMS AND CONDITIONS

* Each runner competes at their own responsibility.
* By paying the registration fee, the participants accept the terms and conditions and agree to take part at their own risk.
* Runners must be in good physical shape.
* The race will take place in all weather conditions, unless the safety of the runners is at risk (extreme storm like in 2022 edition). In such case the organizing committee will decide upon an alternative trail, alternative parts of the trail or complete cancellation of the race.
* Due to difficulty of the race, runners under the age of 18 cannot take part in 40, 60, 100 km distances.
* The trail will be well marked (exclusively red flags in nature, marking tape in urban areas, sign posts at crossroads…). Race staff and volunteers will be present at key points in order to direct the runners.
* The organizer does not accept liability for any damage or injury made by the competitors to themselves, to other competitors or to a third person.
* The organizer does not accept liability for any damage made to running gear.
* Should the route marking be missing at given trail sections, runners have to report it at the nearest check point.
* All runners must carry the mandatory gear.
* All runners must follow the marked path. Any use of shortcuts and running out of the marked trail will be punished accordingly. In case you don't see any route markings for more than 200 meters, go back to the last marking and re-check the possibility of continuing.
* The organizer reserves the right to change the routes.
* By signing up, you allow the processing of your registration data in TREX and Ohrid Ultra-Trail databases.
* Click here to read complete RACE RULES
REGISTRATION FEES & DISCOUNTS

EARLY BIRD DISCOUNT (01.10.2022 - 31.10.2022)
Ohrid Ultra-Trail® 100K - 71 EUR
Galicica Ultra 60K - 52 EUR
Samotska Trail Marathon 40K - 29 EUR
Letnica Trail 20K - 16 EUR

REGULAR PRICES (01.11.2022 - 10.05.2023)
Ohrid Ultra-Trail® 100K - 81 EUR
Galicica Ultra 60K - 60 EUR
Samotska Trail Marathon 40K - 37 EUR
Letnica Trail 20K - 22 EUR

DISCOUNTS:
* Group registrations / Running clubs (minimum number of participants is 5) per EARLY BIRD race fees.
* FREE = 2022 edition general classification podium holders of each race distance.
* FREE = Runners with ITRA Performance Index greater than 730 (male) and 575 (female) or National athletic champions
or Olympians.
* FREE = Travel promoters and/or influencers in the outdoor and running community.

For discounts and free registrations please contact us by email race@ohridultratrail.com BEFORE registering latest by
20.04.2023.

REFUNDS

If a participant is unable to participate and wishes to cancel their registration, they must notify the organizers by email at race@ohridultratrail.com:
- Cancellation until 20.04.2023: 80% refund.
- Cancellation until 10.05.2023: 50% refund.
* Refund after 11.05.2022 is not possible, regardless of the reason why the runner cannot participate in the competition. In this case, the runner will also waive the starting package and all other event benefits.
* Changing race distance - if you are registered and had paid the fee and then decide to change race distances, you must send a request by email to race@ohridultratrail.com by 10.05.2023.
* Passing bib number to another runner - if you are prevented from participating, you have the option to transfer your entry, if you know a person who wants to take over your spot, send us a request by email to race@ohridultratrail.com by 10.05.2023, at latest.
* Please be aware that a race bib is personal. It is the participant's responsibility to enter correct personal information. The unauthorised use of a bib number may lead to disqualification.
* Organizer will also transfer all registrations for 2024 in case of event cancellation due to COVID.

START PACK

* Race bib number and route markings
* Medical and rescue assistance, refreshments and food along the race routes
* Race branded gift
* Finishers medal
* Post-race meal
* N.P. Galicica entry fee
* Bus transfer to start (all races except 100K)
* Free race photos
* Life-time bragging rights ;)

MANDATORY GEAR

Mandatory gear is meant for your own safety - don't underestimate the Power of Nature! In case of bad weather conditions, the event organizer has the right to ask for additional mandatory gear, which will be announced a day before race start.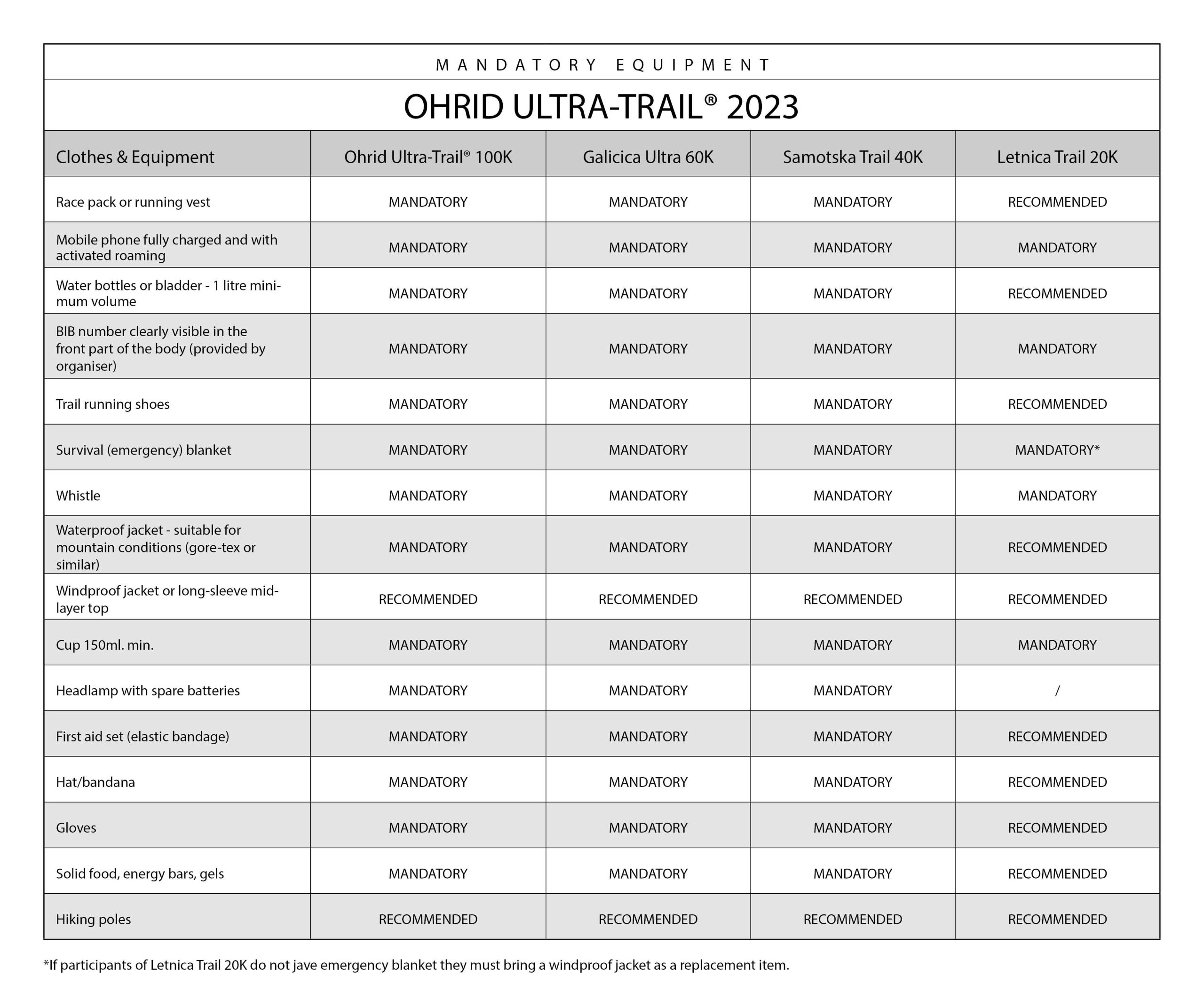 Don't forget to bring the following equipment:
* Mobile phone with roaming enabled - memorize the following numbers:
** Race organization phone +389 71 246 423 (in case of drop-outs and getting lost)
** SOS mountain rescue phone +389 13-112 (in case of a medical emergency & rescue)
* BIB number must be placed at the front of your body, on your t-shirt or shorts or a belt. Do not place the bib number on your running pack/vest - chances are it may not be validated by the electronic timing system!
* Running with another runner's bib number - immediate disqualification.
* Emergency blanket - it's a life-saver in case of hypothermia and freezing weather!!!
* You need to bring your own drinking cup (15 cL minimum). There will be no plastic cups at aid stations, so each runner must provide their own even at the finish area.
* You must carry additional batteries or an additional head lamp (100K and 60K races).
* The waterproof jacket (10,000mm+) must have a hood and taped seams.
* Basic first aid kit is consisted of at least of a gauze, an elastic bandage and a packet of plasters.
* Long trousers or leggings, which fully cover your skin (due to bad weather may be included in the mandatory gear).
* Additional warm middle layer, which covers your arms in full (due to bad weather may be included in the mandatory gear).

RUNNER'S ASSISTANCE

During the Ohrid Ultra-Trail® races, personal assistants acting as a runner's support are only allowed at aid stations. Assistants
may only enter the area specifically designated for them and must comply with all instructions of aid station team leader and staff. Consider the following aid station timetable when planning your trip: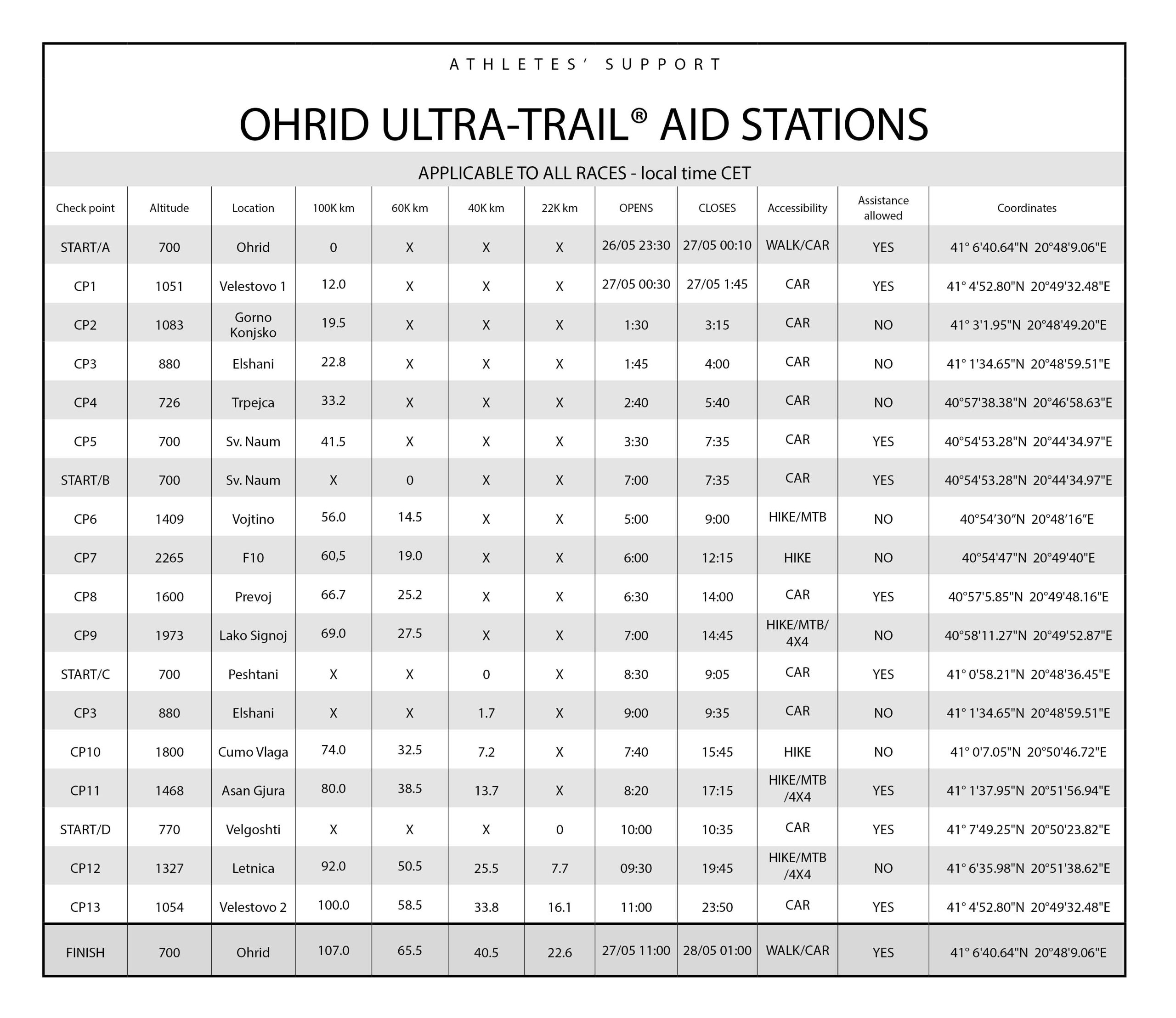 PENALTIES AND DISQUALIFICATION

* Each runner must be recorded at all checkpoints. Penalty for missing a checkpoint is either disqualification or time penalty or by race director's discretion. Using shortcuts, not following the marked path, coming to a check point or station from the wrong direction results in at least time penalty for each irregularity.
* Each runner must have and must show the mandatory equipment when asked to do so. Penalty for incomplete mandatory gear is 30 minutes for every missing item. If you do not show the equipment, you are disqualified.
* Running with another runner's bib number - disqualification.
* Disposal of trash on the trail or next to it, disturbing wildlife – disqualification.
* Using transport during the race – disqualification.
* Insulting the organizer or volunteers – disqualification.
* Failing to help a fellow runner in distress – disqualification.
* Proceeding after the time limit – disqualification.
* Disqualification or penalty can be immediate or upon detection of the irregularity.
PHOTO & VIDEO

On registration, participants authorize the organizers to freely use any images depicting athletes during their participation in Ohrid Ultra-Trail®, whether still or in movement, with no territorial or time limits.